Interest free credit (0% APR) available for only
£xx.xx per month
. Click here for more information.
Citizen Radio Controlled Blue Angels Skyhawk
For 6% off use code: CITIZENDEAL
In stock
- FREE Next Day delivery
Order now for delivery: Saturday 30th May
Shortlist
Save £69.00
£380.00
including VAT
Telephone orders
Expert advice & assistance
01926 298499
Gender

Gents Watches

Watch Style

Gadget, Oversized

Features

Charge Indicator, Countdown Timer, 24 Hour Subdial, Day Display, Glowing Markers, Auto LED, Chronograph, Date Display, Alarm, Display Backlight, Perpetual Calendar

Movement & Power

Radio Controlled

Strap Material

Stainless Steel

Display Type

Analog, Digital

Dial Colour

Blue
Strap Colour

Silver

Case Width

45 mm

Case Depth

15 mm

Dial Shape

Circle

Hour Markers

Batons

Water Resistance

Water Sports (200 m)
Instruction Manual [PDF]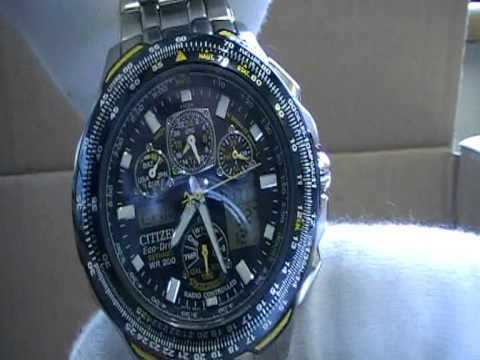 Atomic timekeeping with radio-controlled accuracy

World Time in 43 cities
2 Alarms
1/100 Second Chronograph measuring up to 24hrs
99 Minute Countdown Timer
Perpetual Calendar
Digital display backlight
Pilots Rotating Slide Rule Bezel in blue ion plating
Non Reflective Crystal
Power Reserve indicator (Power Reserve up to 90 Days)
Stainless steel case & bracelet
200 Metres Water Resistant
Fold over push button deployment clasp
Eco Drive Technology, never needs a battery, powered by light
The Citizen JY0040-59L Blue Angels Skyhawk watch is the flagship U.S version of the ultimate fighter pilots watch. This model looks stunning with a deep blue dial set on contrasting Blue Angels yellow with dual display functions and a highly luminous dial. The Citizen JY0040-59L Blue Angels watch is not surprisingly the best selling Citizen watch in the USA. Radio controlled and solar powered, this model represents the peak of watch technology. The glass is crystal scratch resistant and the watch is set on a high quality stainless steel bracelet with push button release. Truly a legendary watch.
As an authorised dealer of Citizen all our products are complete with:
Citizen 5 Year Guarantee (+1 year with Citizen UK registration) - fully stamped & dated (where appropriate)
Instruction Manual
Presentation Box
This page was retrieved on 28/05/15
Latest customer reviews for this watch
Average rating:
4.9 / 5
from 12 reviews
| | | |
| --- | --- | --- |
| 5 star (Best) | | 11 reviews |
| 4 star | | 1 reviews |
| 3 star | | 0 reviews |
| 2 star | | 0 reviews |
| 1 star (Worst) | | 0 reviews |
Overall Rating:
(reviewed 01/12/2014)
Written by:
J Perring
VERIFIED FIRST CLASS CUSTOMER
(purchased 28/11/2014)
Ordered and it arrived swiftly the next day. Packaging and presentation perfect. The company matched a cheaper price found elsewhere so very happy.
Quality:
Value for money:
Ease of use:
Style:
Overall Rating:
(reviewed 05/04/2014)
Written by:
Charles
VERIFIED FIRST CLASS CUSTOMER
(purchased 26/03/2014)
First impressions: flash, bling, a lot of watch. If you are looking for discrete this watch certainly isn't it. Someone asked if it cost 4K!
Quality: The steel strap gave me pause for concern. It doesn't feel high end (compared with my Breitling Colt) but for the price its acceptable IMO.
Setup is a bit of a pain but that's more to do with the instructions I think. A few days later BST started and it set itself up without complication. Radio controlled, no battery, world time all complimented with stunning looks. A very lovely time piece for the money.
Quality:
Value for money:
Ease of use:
Style:
Overall Rating:
(reviewed 14/12/2013)
Written by:
Rob
VERIFIED FIRST CLASS CUSTOMER
(purchased 09/12/2013)
It's a very nice watch, but to each his own of course, this is purely a matter of taste. To me this watch looks and feels great.

Great specs: radio controlled, solar charging, world time zones, 2 alarms, LED for the digital displays, stopwatch, count down timer, (digital) date and day display possible, luminous hands and a seconds hand. Almost every advertisement sums these specs up better than I can and those are the reason I chose it.

The stopwatch counts up to 24 hours, lowest unit 0,01 sec. A lot of other watches are limited to only 24 or 60 minutes, using a 0.001 sec unit. In my opinion a lower limit of 0,001 sec is rather useless if you time 'by hand'.

Very easy switching between your own home time zone end your world time zone.

Water resistant to 200 m. Most watches (not meant for diving) are 100.

Some minor points.

The blue of the dial is much darker than I expected. The blue bezel is almost black.

The bezel functions are mainly (imperial) flight oriented. In principle they are log scales that allow some arithmetic like on the old slide rule. You would easier use your smart phone. But the look impressive!

The luminous hands works reasonably well. Late at night in the dark I can still tell the time, although the difference in length of the hour and minutes hands is rather small and thus not easy to see for me (p.e. 4:07 vs 1:20 hr).

The LED for the digital displays works nice, although the lower part gets less light and is harder to see.

Points I do not like.

No hourly alarm.

The glass is of type mineral and for this price I think they should have used sapphire.

The volume of the sounds (for the alarm and some acknowledgements) of the watch is real low. I can't hear them in a normal environment. This makes the alarms totally unusable for me.

Something I did not realize before is the use of the crown. With the watch on your wrist it is not really doable. This means you will have to at least loosen up your watch, or remove it from your arm entirely. When I looked at some other watches again, I now noticed some do not use a crown, thus avoiding this problem.
Mind you, changing the mode is done by using the crown and almost the first step you need to take. Just momentarily looking at the time in, say New York, if not set as your World Time in addition to your Home Time, is not real simple. The same goes for setting an alarm, using the stopwatch, etc.

On the other hand, Citizen has assigned the functions to the crown and the 2 buttons rather well. The crown makes rotation possible as part of an adjustment, whereas with watches using 3 or 4 buttons you will have to push a button, which is less 'natural'.


The service of FCW is great by the way!

Quality:
Value for money:
Ease of use:
Style:
Overall Rating:
(reviewed 02/09/2013)
Written by:
David Miller
VERIFIED FIRST CLASS CUSTOMER
(purchased 20/08/2013)
My wife bought me the Citizen Blue Angel watch as a 40th wedding anniversary present. It is the finest watch I've ever owned, and the most expensive, and the quality is superb. The service from First Class Watches has been superb, the watch fitted perfectly out of the box thanks to the bracelet adjustment service they provide. I have no reservation in recommending them.
Quality:
Value for money:
Ease of use:
Style:
Overall Rating:
(reviewed 22/07/2013)
Written by:
Jesse Engelbrecht
VERIFIED FIRST CLASS CUSTOMER
(purchased 19/07/2013)
Just bought this watch and it's amazing. Service, delivery and requests were dealt with perfectly. Bought as a second watch to an expensive Breitling that I can use daily and really matches up well to it's more expensive brother and as good looking if not more than it! Highly recommended, you won't regret it and great work from First Class Watches!
Quality:
Value for money:
Ease of use:
Style: