We have detected you are shopping from:
United States
(
wrong?
)
Would you like to see
estimated
prices in
US Dollar
?
UK taxes will be removed from the estimated prices automatically.
Yes, display in my currency
No, UK Pounds (£)
Express international delivery with
DHL Express
service:
USA and Europe:
1-2 days approx
Other:
3-5 days approx
Hide
Currency Settings
United States
(
wrong?
)
USD prices are without UK VAT
Switch between USD and £ (GBP)
Switch currencies
Casio Pro Trek Wave Ceptor
Product code:
PRW-5000T-7ER
Pre-order
- more stock expected in approx 6 weeks
Place an order now to avoid disappointment, cancel at any time
Shortlist
Save $160.88
$418.26
VAT removed
NOTE: Price in US Dollar is an estimate only
Close
Please enter your city and postcode for price
Telephone orders
Expert advice & assistance
01926 298499
Gender

Gents Watches

Watch Style

Everyday

Features

Compass, Thermometer, Auto LED, Perpetual Calendar, Altimeter, Day Display, Countdown Timer, Barometer, Power Reserve Indicator, Atomic Timekeeping, Display Backlight, 24 Hour Subdial, Date Display

Movement & Power

Solar Powered, Radio Controlled

Strap Colour

Grey

Display Type

Analog, Digital

Dial Colour

Black

Strap Material

Titanium
Case Width

50 mm

Case Depth

14 mm

Alarm

Multiple Alarms

Chronograph

Multiple Chronographs

Dial Shape

Circle

Hour Markers

Batons, Other

Water Resistance

Surfing (100 m)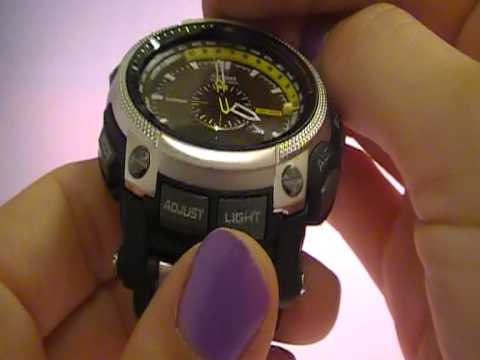 This titanium clad timepiece houses one of the most function packed available in this price range. With analogue and digital displays you really are getting the best of both worlds. And that duplicity carries forward in the power and accuracy, radio controlled with six bands ( UK, USA, Europe, Japan, China and Canada) and solar powered ensures you always have the right time and never need to change batteries. Triple sensor functions direction, altitude, barometer and temperature and water resistant to 100 meters you start to appreciate how function packed it is and what you are getting for your money.
But there's even more, world time for 29 cities, perpetual Callender, five daily alarms/hour markers ,
World time for 29 cities (29 time zones) and an LED back light almost finish it off. But there one more thing, if you weren't hooked already, the titanium strap has shaped 'wrist' pads on the underside of the strap ends, making it extremely comfortable to wear. So there we go order now and have it next working day. When they're gone they're gone so don't delay.
Approx size 50mm x 15mm x 47mm.
As an authorised dealer of Casio all our products are complete with:
Casio 2 Year Guarantee - fully stamped & dated (where appropriate)
Instruction Manual
Presentation Box
* Packaging may be different than that depicted due to product variations, availability and changes by the manufacturer
Delivery Information
For items listed as in stock, your order should be completed before 4:00pm (Monday-Friday) on the day of despatch to be eligible for next day delivery or before 11:30am on Saturday for delivery Monday. Please note that all orders must pass our security policy before they are despatched and we must be able to take payment successfully, if this is not possible we will email or send an SMS with further instructions. For queries and delivery questions please feel free to call us on 01926 298499.
For other items, a delivery estimate will be shown where possible. If we feel we are unable to adhere to the timescale after you place your order we will contact you to make you aware and allow you to change your order if necessary. Items will be sent by next day delivery once they are back in stock and payment will not be taken until the items are despatched.
Returns Policy
We aim for you to be absolutely delighted with your purchase and therefore offer you 30 days to change your mind on any item purchased from this website. You may do this by using the form provided with your order or otherwise. We will provide a refund of all payment received (not including delivery upgrades), usually within 48 hours of receipt of the product. This will be made to the original payment method. For most payment methods it will take 3-5 working days for this to show on your statement.
You will need to bear the cost of return unless we are at fault. We recommend Royal Mail Special Delivery for most items as this way the item will be insured. Please ensure the watch is returned to us in an unworn, new condition with all the original packaging (manufacturer's manual and guarantee if applicable). Please ensure items from your order are suitable before wearing as we are unable to accept items which have been worn under our returns policy. We reserve the right to make deductions for unnecessary damage caused to the product by yourself.
We are also able to offer an exchange to a different product if required, please specify this when returning your product.
What are people saying about this watch?