The Raymond Weil Tango Watch Review
To look classy and professional, appropriate clothing is very important. Watches are an integral part of your professional clothing. The watch you wear says a lot about you. It gives a reflection about your personality, your punctuality and your professionalism. Not wearing a watch to important places doesn't give the right impression. A watch has its importance in daily life as well. It keeps us updated with the time without reaching for our phone over and over again that indeed leaves a very bad impression. As mobile phones became common, it was thought that the use of watches will be abandoned but it didn't happen so. Watches are an important part of complete clothing and a symbol of status. Over the time, wrist watches have evolved a lot. Multiple watches have been introduced in the market with enhanced features and functions. Watches for men, women and kids are available with multiple functions and beautiful shapes. Watches that initially started as a timepiece have become more of a style statement these days. People change their watches according to their dressing and style. So a wrist watch is a must have.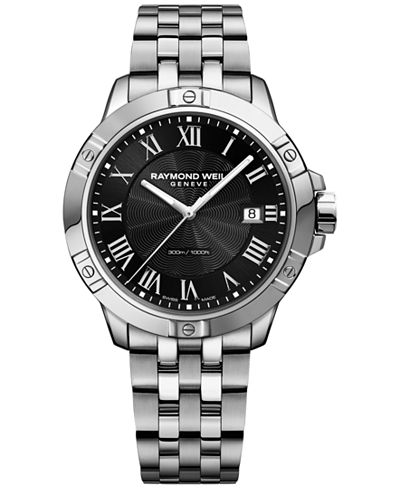 Raymond Weil Geneve has always produced the best watches in the market. A Swiss luxury brand with their watches liked throughout the world. Its Tango collection was first launched in 1995 and because of their popularity and class, its watches are still available in the market and equally liked and bought.
It is important to choose the right watch which is classy, durable and of course serves its original purpose. It is an incredibly detailed and classy watch which gives you a chic and classy look. It is one of the Swiss Made Watches of Raymond with premium, unmatched quality. The overall exterior of the watch gives it a very classy look. It has a fine, stainless steel silver body with beautiful black dial. The watch includes multiple features such as date display, glowing hands, Swiss movements and so on. It is one of the best men's watches available in the market. Here is technical data about the watch:
It is designed for men, one of the best watches among Raymond models. The reference number of the model is Raymond Weil 8160-ST-00208. It is currently available for £895. You can also purchase it online with shipping and warranty. Its make up contains quartz and it is battery powered. The movement origin is Swiss and it features a very classy black coloured dial. The display type of watch is analogue type with Roman numerals. The dial is date display one. The width of the case is 41 mm and its depth is 7.4 mm. The clasp of the watch is made from stainless material with double push security system. Dial is circular in shape. It is splash resistance so safe to be used in locations with water. The case back is vase and date window is at 3o'clock. The watch carries a Raymond logo at the crown.
It is one of the most expensive and classiest watches and also the price is worth it. It has unmatched class and durability.
Wearing a watch has multiple benefits. It helps you stay in time and makes us punctual. Especially when it's a watch as special as this one from Raymond Weil. It is a very solid and well designed watch. It can last for years and years and you can even pass it on to your son. Also the Raymond watches are available globally so no matter what part of the world you belong to, you can get your hands on one of those. Raymond watches have personified class in the shape of their watches since 1976. The watch has got overall good reviews. The thing is, it mostly depends upon your need and your taste which watch will suit you best.
To view this model on our site click here.