We have detected you are shopping from:
United States
(
wrong?
)
Would you like to see
estimated
prices in
US Dollar
?
UK taxes will be removed from the estimated prices automatically.
Yes, display in my currency
No, UK Pounds (£)
Express international delivery with
DHL Express
service:
USA and Europe:
1-2 days approx
Other:
3-5 days approx
Hide
Currency Settings
United States
(
wrong?
)
USD prices are without UK VAT
Switch between USD and £ (GBP)
Switch currencies
Seiko Ultimate Kinetic Arctura
Gender

Gents Watches

Clearance

Sale Items

Movement & Power

Kinetic Powered

Display Type

Analog
Dial Colour

Grey, Silver

Strap Material

Stainless Steel

Dial Shape

Circle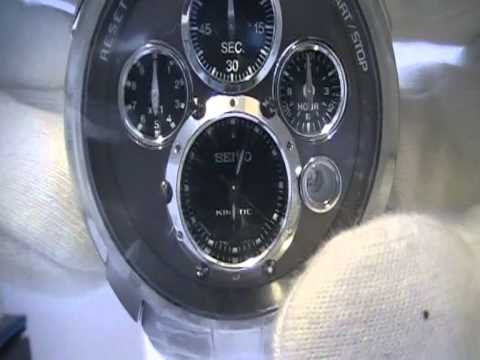 Seiko Ultimate Arctura Chronograph SLQ025J1 *LIMITED EDITION*
Since 1997, Arctura has been the signature design for SEIKO's Kinetic technology. Arctura stands for strong, solid build quality and aerodynamic design inspired by the arc of nature; in rainbows or in the curvature of the earth, the arc is central to nature's plan and Arctura draws its strength from the eternal beauty of this shape
Powered by the movement of your body
Duration of full charge: Approximately 1 month
Chronograph up to 12 hours in 1/10 second increments
Separate displays for all functions ensure ease of use and high legibility
350 parts
Assembled by hand
Stainless Steel case
Curved Sapphire Crystal Glass
Three Fold Clasp with Push Button Release
Solid Stainless Steel Bracelet
Screw Crown
Screw See-Through Case Back
10 bar Water Resistant

Complete with High Quality Seiko Presentation box and instructions
2 year guarantee

Limited to 500 pieces world-wide
As an authorised dealer of Seiko all our products are complete with:
Seiko 2 Year Guarantee - fully stamped & dated (where appropriate)
Instruction Manual
Presentation Box
* Packaging may be different than that depicted due to product variations, availability and changes by the manufacturer
Delivery Information
For items listed as in stock, your order should be completed before 4:00pm (Monday-Friday) on the day of despatch to be eligible for next day delivery or before 11:30am on Saturday for delivery Monday. Please note that all orders must pass our security policy before they are despatched and we must be able to take payment successfully, if this is not possible we will email or send an SMS with further instructions. For queries and delivery questions please feel free to call us on 01926 298499.
For other items, a delivery estimate will be shown where possible. If we feel we are unable to adhere to the timescale after you place your order we will contact you to make you aware and allow you to change your order if necessary. Items will be sent by next day delivery once they are back in stock and payment will not be taken until the items are despatched.
Returns Policy
We aim for you to be absolutely delighted with your purchase and therefore offer you 30 days to change your mind on any item purchased from this website. You may do this by using the form provided with your order or otherwise. We will provide a refund of all payment received (not including delivery upgrades), usually within 48 hours of receipt of the product. This will be made to the original payment method. For most payment methods it will take 3-5 working days for this to show on your statement.
You will need to bear the cost of return unless we are at fault. We recommend Royal Mail Special Delivery for most items as this way the item will be insured. Please ensure the watch is returned to us in an unworn, new condition with all the original packaging (manufacturer's manual and guarantee if applicable). Please ensure items from your order are suitable before wearing as we are unable to accept items which have been worn under our returns policy. We reserve the right to make deductions for unnecessary damage caused to the product by yourself.
We are also able to offer an exchange to a different product if required, please specify this when returning your product.
Latest customer reviews for this watch
Average rating:
5 / 5
from 2 reviews
| | | |
| --- | --- | --- |
| 5 star (Best) | | 2 reviews |
| 4 star | | 0 reviews |
| 3 star | | 0 reviews |
| 2 star | | 0 reviews |
| 1 star (Worst) | | 0 reviews |
Overall Rating:
(review date 28/04/2011)
Written by:
Paul Maycock
VERIFIED FIRST CLASS CUSTOMER
(purchased 13/04/2011)
WOW - The Seiko Ultimate Arctura SLQ025J1 is excactly that - Ultimate!!!

If you ever wanted a watch that stands out from the crowd then the SLQ025 is the watch for you. Classy, elegant and very exclusive - limited to a worldwide production of only 500. A real head turner.

Like other watches in the SLQ series this one doesn't disappoint. The 9T82 Kinetic Movement is assembled by hand by some of Seiko's finest engineers and the quality of workmanship is obvious. A truly magnificent watch.

Whether bought to wear or as an investment the SLQ025 won't let you down. A stunning watch at a stunning price...simply First Class.
Overall Rating:
(review date 25/03/2011)
Written by:
Christopher Schnepp
VERIFIED FIRST CLASS CUSTOMER
(purchased 11/03/2011)
I am now the proud owner of a 'Limited Edition' Seiko Ultimate Kinetic Arctura watch.From First Class Watces of Kenilworth.
The movement is,as the the name states,ultimate in every way.
It has precise time keeping ability and with a satisfyingly firm press of buttons, the stop watch kicks in with excellent readable dials.
It is a pleasure to see the workings through the clear case back and also the 'chunky feel'as other expensive watches in this class.
I can recommend this watch to all.