Oxygen Watches
Click here to learn more
Oxygen are a French watch brand who produce quality sports watches, the brand is a subsidiary of CITIME France who sell a number of different products such as scarves, ties and cuff links. Oxygen watches feature stylish designs, built with quality materials and are incredibly reliable. All of the watches in the Oxygen range have interchangeable straps which means that you can turn your watch into the perfect accessory for any outfit.
Brand History
CITIME France were founded by Eric d'Hauteville who had spent ten years working at Christian Dior, CITME are involved in the creation of watch brands such as Louis Vuitton. CITIME purchased the Oxygen brand in 2003, the brand was originally founded in the 1950's and were known for creating quality diving watches. After relaunching the brand in 2003 the Oxygen brand has grown in size and is now available in over 20 countries around the world.
A Watch For Every Outfit
The choice of Oxygen to create a range of watches with interchangeable straps makes it easy to transform one watch into the perfect watch for any outfit. Oxygen have created a range of
watch straps
featuring a fashionable range of different colours and styles. If your style changes regularly then buying an Oxygen watch is the best way for you to always have a watch to suit your style.
Reliable and Durable
Oxygen watches are always reliable and durable because they are built from strong stainless steel and they are water resistant to 100 meters. If you want an affordable watch which will last then Oxygen are definitely the brand for you.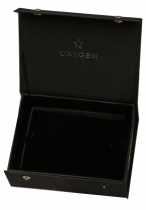 Official Oxygen UK dealer
Great prices and savings on high street RRPs
Make us an offer service
Thousands of online reviews - average rating 4.9 / 5: Google Reviews - Trustpilot - ResellerRatings
Free bracelet adjustment available on metal watches
Over 20 years of high street watch and jewellery experience
---
No products matched your search. Please go back and try a less specific filter or a different search.