Nautica Watches
About Nautica Watches
Nautica is an American sportswear brand famous worldwide for producing authentically stylish products. Nautica have a popular range of men's, women's and children's clothes and accessories. Nautica watches combine classic American style and the latest technological innovations. When you buy a watch from Nautica you get something fashionable, beautifully made and durable enough to last you for years.
Brand History
Nautica was founded in 1983 by David Chu, the name Nautica means ship in Italian and was chosen to reflect a lifestyle of energy, activities and fitness. In 1984 it was brought by State-O-Main which changed its name to to Nautica Enterprises Ltd. During the rest of the 80's and 90's the company continued to expand,. Nautica watches were introduced in 1994 and they have built up a great reputation among active people who need a watch they can wear whether they are surfing, skiing or simply mowing the lawn!
Extremely Durable
Nautica watches are made from strong durable materials like stainless steel which is known for being strong and durable. It doesn't chip, bend or crack easily, so you know that your watch is set to last for a long time. Most of the watches in the world are water resistant to 100m which means that they are suitable for surfing, swimming, snorkelling, sailing and water sports.
One of the most stylish and durable watches in the Nautica range is the
Nautica A18595G Stainless Steel Gents Watch
which is also incredibly affordable.
Affordable Quality
Nautica watches are surprisingly affordable, while retaining their quality and durability. Often you imagine that affordable watches will cut corners in certain areas, which is why most people who want a quality, stylish and durable watch end up paying top end prices - thankfully Nautica is one brand you can trust. One fantastic watch which demonstrates the affordable quality of the Nautica watch range is the
Nautica A13504 Ladies Watch
which comes in under £200, has a date display and is made from sapphire glass, one of the most durable substances on earth.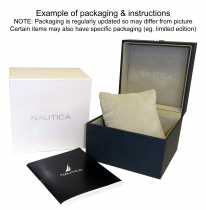 Official Nautica UK dealer
Great prices and savings on high street RRPs
Make us an offer service
Thousands of online reviews - average rating 4.9 / 5: Google Reviews - Trustpilot - ResellerRatings
Free bracelet adjustment available on metal watches
Over 20 years of high street watch and jewellery experience
---
1 to 1 of 1 results
(1 pages)
1 to 1 of 1 results
(1 pages)
Page 1 of 1