We have detected you are shopping from:
United States
(
wrong?
)
Would you like to see
estimated
prices in
US Dollar
?
UK taxes will be removed from the estimated prices automatically.
Yes, display in my currency
No, UK Pounds (£)
Express international delivery with
DHL Express
service:
USA and Europe:
1-2 days approx
Other:
3-5 days approx
Hide
Currency Settings
United States
(
wrong?
)
USD prices are without UK VAT
Switch between USD and £ (GBP)
Switch currencies
Junghans max bill Automatic
Product code:
027/4700.00
Pre-order
- more stock expected in approx 1 weeks
Place an order now to avoid disappointment, cancel at any time
Shortlist
$1061.76
VAT removed
NOTE: Price in US Dollar is an estimate only
Close
Please enter your city and postcode for price
Telephone orders
Expert advice & assistance
01926 298499
Gender

Gents Watches

Watch Style

Everyday

Features

Date Display

Movement & Power

Automatic

Strap Colour

Black

Display Type

Analog

Dial Colour

White
Strap Material

Leather

Case Width

38 mm

Alarm

None

Dial Shape

Circle

Hour Markers

Numbers

Water Resistance

Splashes (30 m)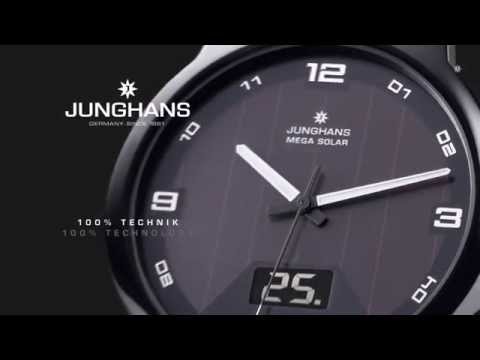 Case: polished stainless steel case with snap-on back with Max Bill's signature
Date window
Diameter: 38 mm
Movement Swiss made ETA 2824-2 25 jewels
Crystal: convex hard plexiglass
Strap: calfskin wrist strap
Polished stainless-steel back and clasp
Water-protected
As an authorised dealer of Junghans all our products are complete with:
Junghans 2 Year Guarantee - fully stamped & dated (where appropriate)
Instruction Manual
Presentation Box
* Packaging may be different than that depicted due to product variations, availability and changes by the manufacturer
Delivery Information
For items listed as in stock, your order should be completed before 4:00pm (Monday-Friday) on the day of despatch to be eligible for next day delivery or before 11:30am on Saturday for delivery Monday. Please note that all orders must pass our security policy before they are despatched and we must be able to take payment successfully, if this is not possible we will email or send an SMS with further instructions. For queries and delivery questions please feel free to call us on 01926 298499.
For other items, a delivery estimate will be shown where possible. If we feel we are unable to adhere to the timescale after you place your order we will contact you to make you aware and allow you to change your order if necessary. Items will be sent by next day delivery once they are back in stock and payment will not be taken until the items are despatched.
Returns Policy
We aim for you to be absolutely delighted with your purchase and therefore offer you 30 days to change your mind on any item purchased from this website. You may do this by using the form provided with your order or otherwise. We will provide a refund of all payment received (not including delivery upgrades), usually within 48 hours of receipt of the product. This will be made to the original payment method. For most payment methods it will take 3-5 working days for this to show on your statement.
You will need to bear the cost of return unless we are at fault. We recommend Royal Mail Special Delivery for most items as this way the item will be insured. Please ensure the watch is returned to us in an unworn, new condition with all the original packaging (manufacturer's manual and guarantee if applicable). Please ensure items from your order are suitable before wearing as we are unable to accept items which have been worn under our returns policy. We reserve the right to make deductions for unnecessary damage caused to the product by yourself.
We are also able to offer an exchange to a different product if required, please specify this when returning your product.
What are people saying about this watch?
"Classic, Minimalistic & Functional - Max Bill 027/4700"
written by
Kamal Kopparapu
Just to describe the beauty of this watch would be a great injustice without explaining my max bill watch journey.
Designer---Manufacturer---Wholesaler---Retailer---Courier--Customer (Me)
The journey starts with Max bill a renaissance man designing this sleek, slender, minimalistic, classic & automatic watch . Carefully manufactured at Junghans by watch artisans.
I have been looking for a timeless watch for long time and came across this watch on first class watches (wholesale/retailer) for a great price match and also a safe shipment service. My watch then traveled five countries for five days through Fedex(Courier) to reach me.
Germany--London--France--China---Singapore--Australia.
So i would like to finish where i started this watch gets its beauty and timelessness from its design, manufacturing, marketing & courier.
Cons- Having a plexi glass than sapphire glass is a great injustice to this timepiece.
Quality:
Value for money:
Ease of use:
Style:
"form and function"
written by
Chris D.
This watch is a mechanical watch with an automatic movement, which means of course that it has no batteries, but does not need manual winding (as long as worn regularly). Neither cheap nor very expensive, it does fulfill the functions of a mechanical watch very well indeed: with a solid (ETA 2824-2 I understand) movement, mine runs to about +5 seconds a day, and I expect this to improve.
However, we don't buy manual watches for their accuracy, but perhaps as an accessory, and surely for their beauty and craftsmanship. I always have loved the smooth move of the second hand of a manual compared to the cold jump of a quartz watch. And these Bauhaus watches by Max Bill are very beautiful indeed: the size at 38 mm is just right for me; the illumination (Super-LumiNova) at night of the hour/minute hands as well as the dots at 12, 3, 6 and 9 is amazing; and the very nice white dial with a silver touch, the precision of the hands reaching to the very precise minute lines (which makes reading the time very good), or above all that number 4 (Junghans do other models, with black dial, without date, without numbers) are just a superb execution of the Bauhaus principles of form and function; other companies like Stowa or Nomos do Bauhaus designs, but finally I prefer the Max Bill one.

This watch has a few issues, none of which is a problem for me, but it is important to be aware of them:
- I find the crown a bit too small for winding (but then you never do, and there is no problem for setting time and date), though it helps the sense of proportion
- this watch has a hardened plexiglass: it can be scratched (though then also polished in a few minutes at very low cost), but does not easily break, and allows the very curved form
- it is necessary to change the date manually 5 times a year: I can live with that
- above all perhaps, it is not waterproof to any level: no showers, and I take mine off for cooking etc.
Bottom line: tastes differ, but I love the timeless (pun intended) sense of proportion and minimalist beauty of this Bauhaus design Max Bill made for Junghans originally in the early 60s.