Monthly repayments available from only
£21.69 per month
. Click here for more information.
Citizen Riva Diamond
For 6% off use code: CITIZENDEAL
In stock
- FREE First Class delivery (1-2 days)
Upgrade to next working day for just £3.95
Shortlist
Save £60.00
£209.00
including VAT
Telephone orders
Expert advice & assistance
01926 298499
Gender

Ladies Watches

Watch Style

Everyday

Features

Diamond Set, Date Display

Movement & Power

Solar Powered

Strap Material

Two Tone, Stainless Steel

Display Type

Analog

Dial Colour

Mother of Pearl
Strap Colour

Silver, Gold

Case Width

28 mm

Case Depth

9 mm

Dial Shape

Circle

Hour Markers

Batons

Water Resistance

Surfing (100 m)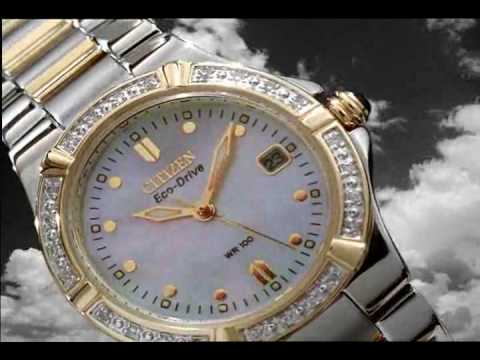 24 Diamonds set in a circular pattern around the case
Mother of Pearl Dial
Stainless Steel Two-Tone Bracelet
Water Resistant 100M
Cabochon Crown
Mineral Crystal Glass
Push-button Deployment Clasp

Case depth: 9mm
Case width: 28mm
As an authorised dealer of Citizen all our products are complete with:
Citizen 5 Year Guarantee (+1 year with Citizen UK registration) - fully stamped & dated (where appropriate)
Instruction Manual
Presentation Box
This page was retrieved on 27/05/15
Latest customer reviews for this watch
Average rating:
5 / 5
from 7 reviews
| | | |
| --- | --- | --- |
| 5 star (Best) | | 7 reviews |
| 4 star | | 0 reviews |
| 3 star | | 0 reviews |
| 2 star | | 0 reviews |
| 1 star (Worst) | | 0 reviews |
Overall Rating:
(reviewed 13/12/2014)
Written by:
Ph Jeavens
VERIFIED FIRST CLASS CUSTOMER
(purchased 06/12/2014)
This watch is amazing from opening the box I could not stop smiling fantastic quality great style easy to set up and I know what a great bargain I have and look forward to yeas of pleasure
Quality:
Value for money:
Ease of use:
Style:
Overall Rating:
(reviewed 04/09/2014)
Written by:
Amanda Mark
VERIFIED FIRST CLASS CUSTOMER
(purchased 25/08/2014)
Great price, great product, great service. Item was exactly how described, came with box, manual and warranty card. Highly recommend.
Quality:
Value for money:
Ease of use:
Style:
Overall Rating:
(reviewed 04/08/2012)
Written by:
Eleanor Fraser
VERIFIED FIRST CLASS CUSTOMER
(purchased 28/07/2012)
The Citizen Riva EW0894-57D is water resistant to 100 metres, comes with a two tone silver and gold bracelet and a mother of pearl face. This is definitely a ladies watch of some distinction.
The bracelet is approx. 1.5cm wide and made of stainless steel. It has a central row of interspersed brushed silver and polished gold coloured links and this is bordered on either side by a row of highly polished silver coloured links.
The face is made of mother of pearl and, depending on how the light reflects off it, can take on some very subtle but beautiful hues. The gold coloured time markings and hands are very clear and easy to read even in the dark - as soon as the light dims they become luminous. The day of the month window is, however, somewhat on the small side. There are 24 small diamonds spaced round the outer edge of the two tone case and these certainly add to the stylish look of the watch but in no way are they overly showy. You will get a pleasing glint off them when the sun or light catches them, though.
Being an eco drive watch no batteries are required it simply runs off stored solar energy. Setting the time and date is an easy and quick process.
This really is a very nice looking quality watch equally suitable for day or evening wear and, as it is two tone, can be worn with silver or gold jewellery. Buying it was certainly the right decision for me - I am absolutely delighted with it.
Quality:
Value for money:
Ease of use:
Style:
Overall Rating:
(reviewed 21/01/2012)
Written by:
Christine Musgrave
VERIFIED FIRST CLASS CUSTOMER
(purchased 13/01/2012)
I bought this watch from First Class Watches as they were the cheapest on the net and also got 8% cashback from Quidco which made it a done deal. The delivery was speedy and I received an email telling me that it had been despatched and I received it the next day by special delivery.
The watch was a present from my husband for our Pearl Wedding Anniversary and I absolutely love it. This is my second Citizen Eco-Drive watch after having my other one for years and it does not require a battery as it works by light. I chose this one as it has the mother of pearl face, which was suitable for our anniversary instead by buying pearls. It is easy to see the time and date and also illuminates in the dark so that you can see the time at night which is great. It has a two-tone bracelet so goes really well with all jewellery and is very comfortable to wear. The real diamonds make it classy and very stylish with not being over the top. You can wear it through the day and also on an evening out. It is 100m waterproof so can wear it for everything without having to take it off.
Thank you First Class Watches for a first class service! We will certainly buy again from you in the future probably when my husband needs a new watch!
Quality:
Value for money:
Ease of use:
Style:
Overall Rating:
(reviewed 02/01/2012)
Written by:
Angie
VERIFIED FIRST CLASS CUSTOMER
(purchased 30/12/2011)
Bought for Christmas/Birthday present,have been drooling over it for the last few months,seeing the adverts made me want it more!!!am looking forward to wearing it on my Birthday 4th Jan,and the envious looks from friends,thankyou for the reasonable price.
Quality:
Value for money:
Ease of use:
Style: